Take A Sneak Peek Inside One Of Our Past Boxes!




March 2009 [archive]
Divalicious Sample Box Contributors




Pamper Party Divas
Moisturizing Butter Lotion Bars, soothing Herbal Foot Soaks, refreshing Body Wash, hydrating Body Lotions, and more! This company offers an impressive and luxurious array of natural bath and body products...."designed to pamper and uplift you both inside and out". You're going to love their samples...plus the coupon code for a 20% discount at their website!!!



Nurturing Beauty
"Create Your Own Definition Of Beauty" with Nurturing Beauty! This company has sent trial size jars of their popular Body Soufflé to be included in our March boxes. What a luxury! The soufflé contains natural and organic ingredients that will moisturize and soothe your skin (such as avocado oil, shea butter, and sweet almond oil). It also has a very fresh, clean, uplifting Pearberry fragrance. A beautiful product for a beautiful you.



Aquacate & Co.
As one of our top sponsors for the March campaign, the amazing Aquacate & Co. has contributed an assortment of premium skin care samples - made with organic, all-natural ingredients! Soothing Facial Lotion, Hydrating Facial Crème, Rejuvenating Eye Treatment, Facial Recovery Treatment, Essential Reinvigorating Serum, and Facial Exfoliating Crème…..perfect for oily, normal, and dry skin types. They use only the finest ingredients and their website even says, "avocado, aloe, rooibos, tea rosewater, honey, and oat ingredients make for the best, celebrity skin". What an honor to have this great company joining us!!



The Soap Seduction
You're going to love scrub-a-dubbing with the high-quality, handmade soap samples sent in from The Soap Seduction. There's Chocolate Fantasy, Honey Baby, Tranquil Sleep, Winter Blues, and Black Current Rose, just to name a few. Oh-la-la….so many favorites!! We are huge fans of The Soap Seduction and have even featured them on our blog in the past. Be sure to check out their shop for more indulgent and luxurious bath and body goodies. "Have fun! Get clean"!



SuzanneMade
This boutique offers earrings, necklaces, bracelets, and so much more! A wide variety of limited edition and one-of-a-kind items. You'll be pleased to know that the lovely owner of this shop has generously sent along Gift Certificates to be distributed among the boxes. WoooHooo!




Bijouxbead
"Feel what you wear, wear what you feel" at Bijouxbead! This business has been featured in fine galleries and on television programs such as "Fortune Hunters" and Slice TV's "The Mom Show". What an honor to have the designer, our friend Darlene, offer to send one of her exquisite full-size pieces (earrings valued at $40) to be given to ONE LUCKY box recipient. Hmm….will YOU be the lucky one who receives it?



Bin Hog Designs
Bin Hog offers a fun and colorful variety of Custom Embroidered Luggage Handle Wraps that will make your luggage stand out from the rest. You won't have to worry about grabbing the wrong bags in the overhead bin anymore. The perfect solution for all of you travelling divas out there. We are totally loving this business and all of the cute, creative, and attention-getting designs that are available. These full-size items make a great addition to the March boxes. You'll loooooove them!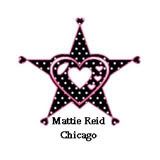 Mattie Reid Chicago
This independent company designs and develops apparel and fashion accessories. They have sent along an assortment of items for our boxes, including jewelry that is made with vintage trim, fabric, and buttons. Make a statement with these original pieces. Also, you will get 15% off at Mattie Reid Chicago.



Joyful Girl Natural Products
Bring a little joy into your life with Joyful Girl Natural Products ~ "Natural & Organic Bath & Body Products For The Whole Family"! This company offers skin care products that are "not only good for your body, but also are fun to use and appealing to the eye." For our March campaign, they have contributed a variety of great samples like: Finishing Hair Spritz (that controls frizzies and boosts volume and shine), Organic Shea Lotion (in beautiful, invigorating scents), and more! We are sure that once you try their amazing products, you will fall head-over-heels in love with them.




Sweet And Tranquil Bath and Body Products
"Sweet scents and tranquil baths"….aaah, how nice! This Canadian-based business creates some of the most luscious and luxurious bath and body products on the web. You'll love the pleasant and soothing aroma of their handmade Hyacinth Soap. This soap comes inside a pretty gossamer bag and makes a wonderful addition to our March boxes! You will also be happy to know that they have included a code for you to receive a free soap (yes, a free soap of YOUR choice) with your next purchase of $20 or more. WooHoo!



Underglass
Oh, you will definitely want to bookmark this shop! Underglass ~ "Eclectic jewels for the artistic soul". The dainty bracelets from their popular Krystallites collection will warm your heart and inspire you. Each bracelet has a lovely illustration and a word printed across the front of the crystal ~ (words like "Love", "Hope", "Inspire", Dream", and Live"). The finishing touches are the silver plated lobster clasps and silver plated chain extenders with clear beads. We are still gushing over these beautiful, feminine, trendy, full size fashion accessories. What a contribution!!! We must also mention that all who receive a bracelet in their box will also receive a code for free shipping on their next order at the Underglass shop. Good stuff!



Sweet Delight Bath and Body Treats
We will be contributing samples from our own boutique, Sweet Delight Bath and Body Treats ~ where we specialize in creating luxurious and decadent, dessert-inspired spa goodies for Divas. Straight from the candy shop, our new line of sugary-sweet "Lollipop Soaps" will be making their debut in the March boxes. Mmmm....these full-size novelty soaps look just like the real thing and come in juicy, fruity, fun scents like Cherry and Blueberry. We will also be providing samples of our relaxing Wintermint Foot Soak. (Wintermint happens to be one of our most popular scents!) "Are you a Sweet Delight Diva?"



Designing-Diva
Divas love jewelry. That's why we are so excited about the fabulous fused glass pendants and earrings that have been sent in from Designing-Diva. (Yay, more full size items for the box) These original and limited edition designs are trendy and totally fab! Each and every piece is a work of art - handcrafted by N. Texas artist, Randi-Sue Deckard. As a bonus, Designing-Diva has provided a coupon code that allows you to save 15% on any order over $25. Wow, you've got to love that!



SueBeads
If you love beads, then you will adore the 12mm fritted round beads that have been contributed by this great business. These glass lampworked beads are handmade and come in beautiful, bright, happy colors! Great for creating earrings, bracelets, necklaces, and more. Plus, all of you "Divas" will receive a coupon code for 15% off your first order at the SueBeads shop ~ "Your place for funky fun handmade lampwork beads"!



Ocean Mist Cosmetics
"Bring out your natural beauty" with Ocean Mist Cosmetics! This company offers high quality, hand formulated bath and body products and mineral cosmetics at rock bottom prices. For all of you "Divas" out there who love glitter and glamour, they have sent along shimmer, pearls, and metallic eyeshadows in colors like "Angels Dust", "Blue Surf", "Mahi Mahi", "Caribbean Reef", and "Phantasy". They have also sent along blushes that can be used on the apple of your cheek or your entire face for a radiant glow. They come in a variety of colors, such as "Rosy Snapper", "Mermaids Kiss", and "Morning Coffee" - just to name a few. You will receive fabulous samples of their eyeshadow and blush. Plus, you get a coupon code with an additional 20% off at the Ocean Mist Cosmetics store.



Designs By Victoria
Designs By Victoria has generously contributed a variety of exquisite, hand-crafted jewelry to be distributed among the boxes. Earring pairs (on sterling silver earwires), beautiful Bracelets, and Drop Pendant Chokers (on 18" sterling silver chains). These pieces are made with materials such as: opalized glass, quartz crystal, burnt serpentine, malachite, pearls, amber glass, smokey quartz, moss agate, red agate, fluorite, Czech glass, and antique glass pearls. Simply breathtaking, full size items! Victoria has also sent along Gift Certificates (each worth $25.00) to be given to THREE lucky sample box recipients. This really adds to the excitement.








































sweet delight divalicious sample boxes, samples, free samples, bath and body samples, sample boxes, bath and body treats, bath treats, body treats, bath and body, grubby candles, votives, scrapbooking samples, sampler box, party favors, hostess gifts, hospitality soaps, handcrafted soaps, handcrafted candles, handcrafted products, indie shops, indie shopping, online boutiques, divas in business, free product reviews, canadian company, canadian boutique, wahm links, mommy shopping, indie links, free indie advertising, independent business promotion, soap samples, candle samples, promoting work at home moms, diva shopping, divalicious, diva boutiques